The Prime Minister of West Bengal, Mamata Banerjee, announced on Friday that Rajya Sabha deputy for two terms, Chandan Mitra, who recently resigned from the BJP, has joined the Trinamool Congress (TMC) along with six other leaders from different parties. The other three are -Congress' Samar Mukherjee, Abu Taher, Sabina Yasmin and Akhruzzman, the former CPM member Moinul Hasan and the general defender of Mizoram Biswajit Deb, according to ANI.
Banerjee was on his way to the annual Martyrs' Day rally in Esplanade, near Kolkata, where people from different corners of the state have gathered in large numbers to observe the rally. Explaining his strategy for the Lok Sabha elections in 2019, Banerjee said: "We will start the 'BJP hatao, desh bachao' campaign on August 15. 2019 will be a big blow, Bengal will show the way."
At least 6,000 policemen, around five observation towers near Victoria House at Esplanade, three Quick Response Team (QRT), Heavy Radio Flying Squads (HRFS), four teams from the Kolkata police reserve force, 100 CCTV, 8 trauma care ambulances, Sub "control room, bomb squad personnel and dog squads, have been deployed to avoid any adverse incident, according to PTI.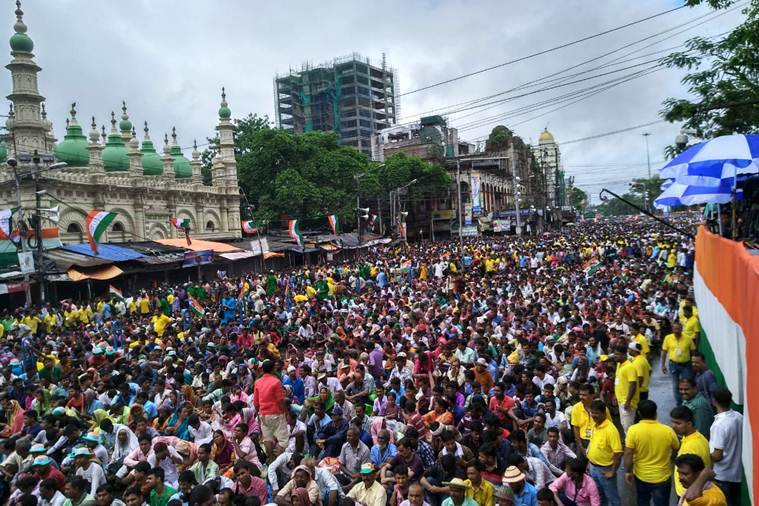 The Martyrs' Day rally is organized by the party every year on July 21 in the memory of 13 Youth Congress activists killed in police shootings in 1993 during the Left Front regime in West Bengal. Prime Minister Mamata Banerjee was a leader of the Youth Congress at that time.